Theater of Romance - Old Time Radio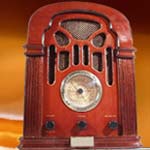 "My name is Romance..."
Radio dramas were plays, operettas, and other types of performances, usually seen in stage or movie theaters, that were adapted especially for radio. he radio drama brought these dazzling presentations into the home, costing the listeners only the initial price of their radios for a front row seat in the theater of imagination.
What makes Theater of Romance more elegant than the archetypal radio drama of the same era was the number of brilliant Hollywood celebrities that performed on the show. Between 1943-1952, the revolving cast included luminaries Douglas Fairbanks, Jr., Henry Fonda, and Errol Flynn. Against a backdrop of sentimental music, performers acted out famous movie scripts, such as "Daddy Long Legs", "Stage Door," "Casablanca," "It Happened One Night, " "Goodbye Mr. Chips, " "Stage Door," and "Dark Victory."

There are 207 shows in our collection!
Date Aired
Lady Hamilton
August 23, 1943
Mrs Moonlight
August 30, 1943
Dark Victory
September 20, 1943
The Barker
September 27, 1943
Elisabeth Of Austria
October 25, 1943
Daddy Long Legs
November 1, 1943
The Barker
August 1, 1944
Lady Hamilton
August 8, 1944
Pride And Prejudice
August 29, 1944
Bachelor Mother
November 21, 1944
Intermezzo
November 28, 1944
Rendezvous At Mayerling
December 5, 1944
Casablanca
December 19, 1944
Stage Door
July 18, 1944
My Man Godfrey
July 11, 1944
Goodbye Mr Chips
July 4, 1944
Elisabeth Of Austria
January 25, 1944
A Quiet Wedding
February 1, 1944
Seventh Heaven
February 22, 1944
A Lady In Love
February 29, 1944
Petticoat Fever
April 25, 1944
Love Song
May 23, 1944
Pride And Prejudice
June 13, 1944
Ball Of Fire
January 23, 1945
Lost Horizon
February 6, 1945
AND MANY MORE



Other Vintage Radio You'll Like:
Try these other Old Time Radio Shows out for size!